What is the last hardback you bought?
A signed ed. of Reasons To Stay Alive by Matt Haig. I have a very small collection of signed books, and I thought it would make a good additon. Plus, there are lots of rave reviews online.
What is the last paperback you bought?
Rebecca by Daphne de Maurier for Classics Club.
What is the last eBook you bought?
Forensics: The Anatomy of Crime by Val McDermid. I wanted to buy something I don't normally read and Val McDermid seemed a great place to start.
What is the last audiobook you bought?
Catherine the Great by Robert K. Massie (biography) and A Constellation of Vital Phenomena by Anthony Marra from Listening Books. I get to borrow two audiobooks a week and then store them indefinitely on my iTunes.
What books are you currently reading?
Reasons To Stay Alive by Matt Haig, the D.H. Lawrence Dover Reader and Awakened by Autism. The latter two are on kindle, which I read before going to bed, travelling etc. Reasons To Stay Alive I read when I have short breaks. Normally I have an audiobook for when I am at the gym, but I want to finish one of the three before I start a new audiobook.
Any books that are on your wish list?
Mort by Terry Pratchett and The Buried Giant by Kazuo Ishiguro. Also, books on my Mental Illness Awareness Reading Challenge and LGTB challenge.
Do you have any preference over book length?
An old phrase springs to mind - 'Some books should be articles and some articles should be books'. I don't mind as long as all the words are used wisely.
Do you have a specific organising system for your bookcase?
I used to have my books organised by first publication date. The reason being, I liked to see what came before and after an author, contemporaries etc. This was also good because I have a lot of Russian and American authors, as well as British and it makes for a good historical contrast. I have too many books now making it unfeasible so books are arranged in sections. In my three bookcases are the sections: Hardbacks/signed ed.; Psychoanalysis; Philosophy; Buddhism; Fiction; History; Poetry; Autobiographies; Crime/Horror; Russian; Richard & Judy Book Club and a three row deep pile of books stacked with horizontal spines of books I might want to read after a month of Sundays. I also have several cardboard boxes of books to sell/give away.
Do you keep a record of the books you've read? If yes, how?
I am coming up to my fifth year of keeping my book diary. Basically, I came to the conclusion I didn't want to forget about a book I've already read and so I went to the back page of my Paperchase notebook and started writing the book title, author and date. My first entry is "Laughter In The Dark - V. Nabokov 26/4/11". I averaged a book a month for four years and a book and a half every month. I am about to start my fourth A5 page.
This year I am averaging four books a month, which is a big improvement for me.
A person interrupts your reading what do you do?
Look at how long I have left in my chapter and ask them to come back in x amount of minutes when I've finished. If it is a really good book, I go:
A character is being irritating what do you do?
I tend to shut a book with a loud bang and march off. The last time I did that was with Of Human Bondage by W. Somerset Maugham. (Like seriously, Philip you were being such an idiot, do you have no self-respect?!!).
Any bookish peeves?
I like to keep my books pristine. I dislike ink smudges and creased spines. Book spoilers in blog posts!!!
Bookmarks?
Yes, I have a wide variety that have been gifted to me over the years. I use two bookmarks, one for where I am going to stop reading and one for the page I am currently on so I don't loose my place. If I am desperate I will use a scrap of paper.
Any conundrums you've faced when reading?
What do you do when the book publication order of a series isn't the same if you are reading events in the series in chronological order (e.g. the Sharpe series does not follow Sharpe from youth to old age)?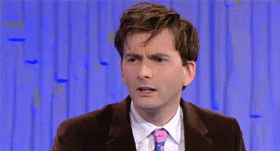 What do you drink while reading?
Tea - English Breakfast with milk and either two sugars or two spoonfuls of honey.
Ideal place to read?
Sitting in my Mexican hammock in the apple tree in my parent's garden. The weather is sunny, with a light breeze. The birds in the hedge are gently chirping and I have a nice stiff drink with no responsibilites/to do list. I don't ask for much...